What is love?
Like a song by Scottish pop rock band - Wet Wet Wet, love is all around. Everyday we are surrounded by it. Every song we hear on the radio is written about love, the good ones at least. Have you ever watched a movie that didn't have at least some love or romance injected into it?
There is quote by some unknown author who sums it really well.
"LOVE: We think about it, Sing about it, Dream about it, Lose sleep worrying about it. When we don't know we have it, we search for it. When we discover it, we don't know what to do with it. When we have it, we fear losing it. It is the constant source of pleasure and pain. But we don't know which it will be from one moment to the next. It is a short word, easy to spell, difficult to define and IMPOSSIBLE to live without."
Most people tend to think of love in its most romantic form. Of Valentine's day, of roses, of chocolates and candlelight dinners. But in reality, there are many kinds of love besides romantic love - the love of a mother from the first sight of her newborn, the love for one's country, love for one's work, love for oneself (which is one that is most overlooked), love of a hobby and love of nature, to name a few. It's all different, yet sort of the same.
When I summarise all those feelings of love, I realised a few things. Love means something / someone that fills your heart with happiness. Love makes you want to do great things and be better. Love puts you in a beautiful mood. When you lose that love, it takes you so long to recover and get back on your feet. It is not something you can see with your eyes, yet it can hurt more than any physical wound.
Yet, if Love makes us happy, why are there people in abusive relationships, who stay in the name of 'Love'? That seems to only happen in romantic relationships. For example, you wouldn't stay in your job if you didn't love it. Or work extra hard for a cause, if you didn't feel passionately in love with what you do.
I am blessed to have experienced many different types of love at this point of time. However, year after year, I find that my Prince Charming and the Happy Ever After that comes with it are still nowhere to be found. Still, I am happy with my life and my perpetual singledom, but now and then... I wish for more.
As the Valentine's day season creeps closer, I decided to form a list of rules for the single and available girl (after a series of failed attempts and kissing a number of frogs), which is not only supposed to serve as a guide to the seeking ladies, but also to serve a reminder to myself ;-)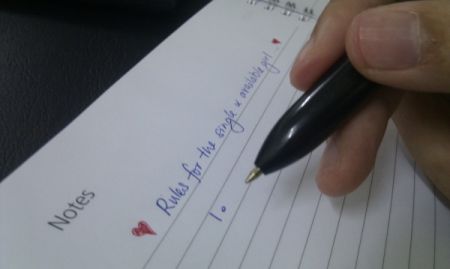 Number # 1: Be confident
Remember girls, if he is really into you, no other girl (regardless of how hot she is) will be able to steal him away.
Let's face it, women tend to have their claws out the moment they sense the presence of another, perhaps more attractive woman. Their competitive spirit immediately goes into overdrive, especially when the man they have their eye on starts responding positively to this unwelcome presence. Then the ugly side starts coming out.
I have experienced being the 'unwelcome presence' more than once. A good example was when I started being good friends with a relatively well-known, good-looking (and SINGLE!) man. I liked him a lot, but I wasn't sure I really wanted to make any moves on him in case he didn't feel the same and that it would destroy our great friendship. And as good friends, we would be really chummy on Facebook and off, talking about various things that we mutually liked. Then came a girl who developed a huge crush on him. She added me on Facebook, which I just accepted because we had a few mutual friends. Then the storm began. She posted all kinds of spiteful remarks about everything I did, especially anything that involved my guy friend. I am sure made her feel good, but to what result? He wasn't interested in her, and no matter how much she brought me down, that wasn't going to change his point of view. He wasn't attracted to her. And behaving in an ugly manner sure wasn't going to win her any favors either.
Does the above story ring a bell? Perhaps you know of someone with a similar story, or maybe you've been that position as well. Conclusion? If he likes you, he just does. If he can't see you for the great person that you are, walk away - there will always be something better out there for you. If it is meant to be, it will happen. If he happens to be yours, TRUST HIM to make the right choices. Don't stoop yourself too low. Be a lady.
Number # 2: Set standards
If he really likes you, he will try hard to be what you want / need. Don't settle for less than you deserve.
I know a few men who got defensive when they read this statement. Don't get me wrong guys, I am not asking for a man to change, and neither do I mean standards as being 'handsome' or 'rich', or 'dressed like a Korean superstar' and so on. Maybe when I was 16 and naive, those would be the top requirements on my list.
What I mean by standards, is asking for respect. Making sure that you are not put in a position where you are forced to do something you don't feel comfortable with. Or been made to feel unimportant, which should actually be a 'red alert' signal that he really isn't that into you.
Ignore the fact that just the sight of him makes you swoon and dream about the beautiful babies you will have together. A man who doesn't respect you is not worth clinging on to. Let me ask you, who doesn't want a man who behaves like a gentleman and who treats you like a princess? I've known too many, myself included, who have dropped everything to be with the first guy who even gives them a second look, and willing to overlook some crucial behaviour patterns just so that they can be part of a couple.
So, if you set your ground rules from the beginning, e.g. not tolerating him if he asks you for kinky favours that you are not comfortable with, or if he doesn't respect the time that you have sacrificed to be with him, you might just be able to pick out the winners from the losers. The winners are the ones that know how to treat a lady right and is a keeper.
Important point to take note: Do not walk into a relationship thinking you can change a guy. You are going to fail miserably. Avoid, at all costs, the man with abusive tendencies.
Number # 3: Be your own person
Never change who you are to mould yourself into what you think is his ideal. Love who you are!
If you have special interests, say so. And don't pretend you know a lot about something when you don't. If you've ever watched 27 Dresses, you will know how disappointed guys get when they find out their dream girl doesn't actually exist. A lot worse than if they know who you are from the very start.
A lot of women fail to appreciate their own intrinsic beautiful qualities and instead focus on the parts they don't like about themselves. Self esteem determines a great deal about how you approach relationships. Personally, I believe low self-esteem it is the root cause of women remaining in destructive relationships. If you don't love yourself, you can't expect others to. Set a challenge for yourselves today: 1. Name 2 things that you would like to change about yourself. 2. Name 5 things that you think are great about yourself.
Now, doesn't that feel good? Go now and portray those great qualities!
Number # 4: Equality rules
Being equal applies to the dating world as well. You are entitled to make the first move. Just as it should be mandatory for a lady to at least pay for part of the date.
I felt compelled to include this in my list of rules after some feedback from a couple of friends. Especially men, who commented that they would love to see a woman take matters into their own hands and get what they want. Which I guess is great for them, and is also a great way for a woman to showcase her confidence? (refer to rule # 1). Nevertheless... it seems quite scary, and I worry that I would end up like one of the rejected in this video -
But... better to know and get it over with, I guess? Then never knowing and wondering what could have been.
And there you have it - my 4 rules for the single and available girl, which was inspired by tips given by dating guru Matthew Hussey (www.gettheguy.co.uk) and EDGE of David (www.edgeofdavid.com) as well as my own personal experiences. They are definitely rules that I need to remind myself of as well, as I am no expert in the issue of L.O.V.E. (read: still searching high and low....)
Happy dating and wishing that 2012 brings you love!
Read more...